Citizen journalism and democracy relationship
PDF | The contribution of professional journalism to democratic citizenship is Trust in user-generated news amplified the link between citizen journalism and. The contribution of professional journalism to democratic citizenship is Trust in user-generated news amplified the link between citizen journalism and online. The contribution of professional journalism to democratic citizenship is news amplifled the link between citizen journalism and online participa- tion.
Finally, the last requirement is the independence from the Government control, hence the government has to be a participant in the debate, but never a coercive controller. Scholars like Castells describe the Internet as an horizontal, cheap, fast and non-controlled channel of communication, attributes that have also been appropriated by citizen journalism.
He enhances its virtues for facilitating a greater and equal access to information, interactivity possibilities that citizens could use to raise questions or voice opinions and the new idea of people watching and monitoring the government.
However, others Van Dijk, ; Sunstein, ; Goldberg,Morozov, note that the ubiquity of Internet and the idea of a cyberdemocracy are not exempt of dark spots and that we should not fall in the cyber-utopianism. As Morozovp. As we see, the positions about the democratic possibilities of Internet, the main habitat of citizen journalism, occupy a broad spectrum, from white to black, touching all the grey nuances. As I already mentioned, the paradigmatic change in the 21st century is the engagement of the audience, which takes part in the conversation and wants to be heard.
Gillmor describes this shift as an evolutionary and adaptation change for journalism, which stops being a lecture to become an open seminar. Mainly, the interaction takes place online and covers the whole chain of production and distribution of the news, from a first picture of an unexpected event posted on Twitter, to the debates between users that take place on the comments section from online newspapers.
Should we describe it as opposed to professional or traditional journalism?
Citizen journalism to improve democracy: between myth and reality
And if so, what are the differences and where are the boundaries? As it becomes evident, the current media landscape is heterogeneous, unstable and unpredictable. What is citizen journalism? Bowman and Willis, indeed, provide a good description of these awakenings of the citizens: However, they omit that the audience, at least some segments, have had the desire of being heard for a long time, the main difference is that nowadays the tools to spread information are more accessible and they work in a global scale.
Today you do not need to be a radical to post a tweet with a picture of an accident that just took place, or to run a blog where you express your opinions about the last elected president. Hence as a point of departure for the discussion I will use the following definition of our concept, adapted to the 21st century: This is just one of the multiple definitions scholars have made, but it is useful because it focuses on the online side —the most prominent one— of the phenomenon and gives room to a broad spectrum of practices.
Discussion Citizen journalism as a democratizing tool During the last decade we have been bystanders of impressive social movements like the Iceland Kitchenware Revolution, the Arab Spring, the Spanish Indignados or the Occupy Wall Street.
In this ebullient context of networked society, scepticism, outrage but also hope Castells,citizen journalism has been herald as a tool to rebuild and improve a withered democracy. Scholars usually highlight two main reasons to argue that: Indeed, since mass media is tied to political and economical powers, they will not always keep that Habermasian task of monitoring the power with integrity and independence.
This argument puts the accent on the news production capacity of the audience, on the user generated content posted on social media, blogs and other platforms, which fills the gaps of mass media with relevant and critical information. A great example of the role of citizen journalism as an empowering tool for the people to challenge the status quo was made evident in the shooting of Michael Brown and the following disturbances and demonstrations that took place in Ferguson last summer.
On that occasion it was a Twitter user, TheePharoah, who reported, second by second, what he was witnessing from his house. This was the tweet that gave the alarm: A police officer had just shot and killed an unarmed black teenager in the street who had stolen some cigarettes from a store.
A following picture of the scene with the dead body on the ground and the tweets with more details of the shocking and tragic incident arouse indignation in social media platforms and protests on the streets of Ferguson that lasted for weeks. In the disturbances that followed the shooting, citizen journalism also had a crucial role, especially when some professional journalists were arrested by the police, who announced that it was not allowed recording or taking images in that situation.
But indeed, it was even possible to follow the protests via live streaming videos recorded by citizens on the ground. After these events, Gillmorone of the main advocates of citizen journalism, remarked again how essential it is in our current society, especially when it comes to disclose power abuses: Video and pictures are an equalizer: Twitter has shown in several occasions its effectiveness during disasters Murthy, or, as in the Ferguson case, when a citizen is the first to break the news and report in words-capsules what he sees, fearless and without imposed filters.
Then, the networked structure and interactivity possibilities of Web 2. Actually, the empowerment of the citizens goes beyond the possibility to create content and publish it for a global audience. The second main argument to consider citizen journalism as a democratizing tool is strongly related to the Habermasian idea to create a meaningful agenda-setting and promote dialogue to make an enriching deliberative discussion possible.
This happens by the potential inclusion of an unlimited range of different perspectives and voices to the virtual public space. As Carrp. As Gillmorp. Blogs, for example, are a great means to publish long-format articles without restrictions, as Alexanderp. The stimulation of dialogue through comments or social media sites can also be translated to a re-engage of citizens to the public debate in times of media scepticism and political cynicism.
Therefore the site performs as a bridge between the audience and citizen generated content from blogs and social media platforms, by framing and amplifying conversations that are taking place in the immensity of the Net. In this case, Global Voices is also a filter of political relevance and accreditation Benkler,p.
Citizen journalism to improve democracy: between myth and reality | Paula Montañà Tor
Citizen journalism gives answers to some of the petitions for democratisation in the media landscape made in the MacBride report in and later on also theorised by Habermas or Benkler, thus it is based on an active participation of the audience, the variety of messages increases and also the quality of social representation. Recently, we have witnessed how some traditional news outlets are welcoming citizen journalism, creating a symbiotic relationship. The initiative taken by Al Jazeera during the Tunisian revolution to overcome the censorship and repression from the government is a good example of this positive and growing trend: In this sense, Habermasp.
They see the current triumphs of citizen journalism more like an exception rather than the norm and argue that it cannot displace the legitimacy and usefulness of professional journalism. Thus, the major critics make reference to the consequences of the lack of real training of those proclaimed citizen journalists, the problems derived of the conception of the cyberspace as an actual public sphere and the dangers of falling in to a cyber-utopianism attitude.
The first note of caution is raised mainly from the analysis of citizen journalism as opposed to professional journalism and thus it highlights the poor and doubtful quality standards that the former is able to provide. For instance, after several surveys and interviews among editors of British newspapers, Thurmanp.
Thus, the lack of proper training and ethical codes compromise the relevance of the information towards the general interest and the public debate, questioning the credibility of citizen journalism.
In this sense Carrp. In his analysis of three citizen journalism sites —Digg, Guerrilla News and NewsVine— Goode makes the dilemma that many of these initiatives face between prevailing open and horizontal structures or establishing filters and a hierarchy to fulfil the journalistic standards evident.
Other scholars emphasize the problem stem from equating democracy with quantitative values, arguing that too many voices talking at the same time does not mean more diversity and that it can drive the public debate to anarchy instead of democracy and contribute to a fragmentation of opinions. This is a critique made not just to citizen journalism but to the whole Internet core. Hence, this kind of discourses point to an undesirable dissolution of the public sphere if civil society only relies on citizen journalism sources to keep itself informed, thus there will not be condensation points or common ground for the public deliberation.
The Babel objection is also linked to the echo chamber effect and the polarization of opinions. Sunstein explains that this phenomenon would weaken the power of the general interest due to the capacity of control and individualisation that the Internet provides to users, because we limit ourselves within our own interests and beliefs, and therefore we tend to extreme our previous positions.
Online forums, blogs, or user generated content outlets with a strong or radical political orientation are good examples of this phenomenon, thus in these type of sites users already know what to expect and their profile and opinions will likely be the same.
A third argument to reduce the optimism towards citizen journalism is the digital divide, since citizen journalism as we know it today takes place, mainly, in the online world. The digital divide is a social problem that relates an unequal access to ICT, the individual position in society and thus a disadvantage to participate in the democratic process Van Dijk, In consequence these citizens will be systematically excluded from the online discussion and will not have the possibility to engage in journalistic activities; they become second and third class citizens in society.
As Van Dijk remarks, the digital divide can be due to a lack of access to Internet but also to the lack of technological literacy necessary to participate in this kind of activities. However, in front of this problem, there are some initiatives trying to bridge the digital divide. This coverage won an award for innovation at the Royal Television Society. It was truly greater than the sum of its parts. It provided our audiences with crucial public information when they really needed it.
It's no surprise then that the BBC has gone from passively accepting user-generated content to positively soliciting it. It's not just a "nice to have" - it can really enrich our journalism and provide our audiences with a wider diversity of voices than we could otherwise deliver. As well as voices we might not otherwise hear from, there are stories about which we would never have known. A new strand on Wales Today - "Your Story" - features stories contributed solely by individual viewers and followed up by the programme.
While World Have Your Say is one of a number of programmes which tries to encourage a global conversation based around the programme's blogs and e-mails. We are just launching a video Have Your Say where audience members can contribute their opinions by video some of which will undoubtedly make the conventional News bulletins if they are strong enough.
For many of our audiences, this has opened their eyes to something very simple: Indeed, that news organisations have an appetite for stories they simply couldn't get to themselves and they value information and eye witness accounts from the public - as they always have done.
In May this year, an e-mail arrived from a BBC viewer - a worker at Heathrow - that claimed that foreign workers employed airside at UK airports did not have to undergo full mandatory criminal records checks. The story turned in to an exclusive lead for Newsnight, was followed up by several papers, led to questions in the House of Lords and a change in government policy.
It was a more proactive request for contributions that led to a lead story on the 10 O'clock News, after the outgoing head of the army had voiced concern about conditions in armed forces housing. Journalists were unable to film on MoD premises. So the programme used the BBC website and sites that soldiers use - and offered families affected an open platform to tell their own story. The material sent in exposed the squalid state of much of the soldiers' accommodation.
We were then able to show the pictures we received to the Army - and they had to respond. Again, user-generated content became the core of the story. Technology is allowing us to generate stories we wouldn't otherwise get - and develop them in ways that otherwise wouldn't be possible. So much for stories. But what about opinions? Of course, for many years members of the public have been able to share their opinions through the media. Phone-in shows have been a staple format on talk radio for decades.
Now, with blogs in particular - but also podcasts and videoblogs - the ability of the public to express opinion in public has exploded - especially in the USA - and they no longer need to be "hosted" by broadcaster. This has had a number of effects on traditional media. The appetite for opinion is clearly there - but it has put pressure on the traditional framework of impartiality and objectivity for organisations like the BBC.
The quantity of views, and the means by which they are expressed, has grown significantly. So too have the benefits of being seen to embrace and support public discussion. The challenge for news organisations is in learning how to integrate the opinions of their readers, listeners and viewers in new ways.
And we're still learning.
Some commentators have said that blogs have undermined the value of the columnist or op-ed writer, because there is excellent commentary available for free on the web. But I feel the opposite is true at the BBC. The blogs of senior BBC correspondents are drawing huge numbers of people into sharing the expertise of our specialist editors and engaging in debate with each other.
Listen to some of these figures for October - this past month. Nick Robinson, our political editor, got one and a half million page views for his blog. Justin Webb, in Washingtongot two and a half million. And Robert Pestonour business editor? And, of course, people aren't just viewing - they're blogging.
Adding to the debate, posting their opinions, challenging our coverage, suggesting new avenues of approach. But it's worth looking at the numbers here - Take Robert Peston's blog on who benefits from the cut in interest rates. On the day of publication, it hadpage views.
How Citizen Journalism Is Reshaping Media and Democracy
This highlights the difference in the audiences between those who are happy to read what others have to say and those self selecting minority who want to join in the debate themselves, knowing that the environment can be robust and that people might disagree with what they have to say. These numbers are also a useful warning not to set too much store by the tone of the comments. Those who join in the debate are by definition a vocal minority. They certainly have a place in a vibrant and impartial news environment but they need to be kept in perspective.
Now it's an accepted tenet of the modern journalistic landscape that someone out there will always know more about a story than we do.
That's why the notion of developing networks has become increasingly important. The iPM programme on Radio 4 recently constructed a temporary network to build a "map of the credit crunch". Listeners were directed to the programme's website and asked to say which aspect of the credit crunch most affected their lives. Fuel prices affected most people, but some clear regional differences emerged - and these insights then informed all of the BBC's journalism and helped all of our programmes avoid stereotypes.
But for me it was important: Of course, news organisations also have to adapt to the many networks that already exist. It's thought that Facebook now has over 90 million active users; that 65, videos a day are uploaded to YouTube; these have been joined by sites like Flickr, Twitter and many others. For journalists, these networks represent a good source of information and specialist groups. If people choose to gather there we must be there too.
There are opportunities in all these networks to engage new - often younger - audiences who are not consumers of traditional news. And branding opportunities too: And so news organisations are learning how to use the technology and the sites that encourage citizen newsgathering to support their traditional purposes of providing professional journalism as widely as possible.
If good journalism is to survive it's essential we all adapt in this way. But it does raise interesting issues for us.
The need to be able to handle all this user-generated content is affecting the way we structure ourselves. We have established what we call the UGC Hub - a seven-day, hour operation at the heart of our newsroom.
The hub has 23 staff and works with every part of BBC journalism. Four staff from Have Your Say work solely on moderating blogs and debates. On a big story day those numbers go through the roof. Some 7, pieces of video came in to the hub in one week during last July's floods. When the Archbishop of Canterbury said on the World at One - a lunchtime programme - that some aspects of Sharia Law were inevitable in the UK, more than 9, contributions had arrived by teatime. These responses were then fed back in the output later in the day.
Sometimes we bring it on ourselves. We recently ran a feature on "Broadband Britain" and gave people a way of testing their broadband speeds and then plotting it on a map. Within a 36 hour period we received 65, contributions. The hub is now a fundamental part of BBC journalism, providing a rich memory bank of case studies and a pool of potential story ideas.
I think we've probably always underestimated the media literacy of our audiences - especially those from the babyboomers downwards. But the simplicity of digital technology means it's never been easier for audiences to "make judgements about our judgements".
Again, it's not really new to hear what the audience thinks about what we do. We have always had duty logs and letters through which the highly motivated could register their disapproval - or occasionally their pleasure. Today, if I get 50 complaints on the duty log about something on our News, then I think we've clearly got to look at the way we did that story.
It may be that we are perfectly happy with our final judgement. But I know that 50 people bothering to ring in probably represent a lot more who were fed up or annoyed but didn't take the trouble to tell us. It was front page news on every paper and I received over letters of bitter complaint - most of them demanding my immediate resignation. That was quite a high number then. Today with e-mail, that probably would have been thousands.
The interesting issue then would have been whether or not the weight of all that complaining would have changed my decision.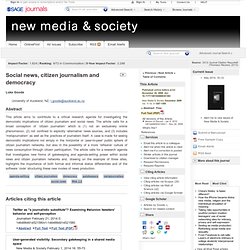 When we said we would show a glimpse of the Danish cartoons on the News, Radio 5Live was subject to an organised text campaign by angry Muslims. In all those cases, we stuck to our guns and made our judgements based on our values of being independent and impartial.
The BBC has a fundamental commitment to freedom of speech and expression - within the law and within appropriate boundaries of taste and decency and of course there is much audience debate about where those are drawn.
That commitment is there because free access to reliable, impartial information is fundamental to a liberal democracy and that is what the BBC is here to serve. But the sheer volume of e-mail and text traffic possible because of digital technology could have the effect of bullying a less confident organisation. And certainly bullying by blog is a phenomenon that many newspapers are struggling with in relation to their columnists.
It's one of the darker sides of the great push to more connection and transparency. For us in journalism, one of our most important responses to this kind of debate has been to launch the Editors' blog, where our programme editors - the people who actually decide what is in the Today Programme or on Newsnight or on the Ten O'clock News, write about the editorial dilemmas they face and their particular judgements. This section of the BBC website received over a million page views last month.
I am incredibly proud of the Editors' Blog and of my team for being open and transparent with the public. But as time has gone on, it's clear that in one respect at least, this is a double edged sword. Call us paranoid, but we increasingly have a sneaking suspicion that some of our competitors in the newspaper industry pore over our Editors' Blog to try to pick out phrases and opinions to turn into critical copy.
This doesn't remotely put us off doing it - but it certainly makes us very realistic about the risks and benefits of transparency.
Indeed, I long for the day when the editor of a major newspaper - especially a tabloid - writes the occasional blog honestly outlining the reasons behind his or her editorial decisions. But we are here to talk about democracy. I've touched on how we are using digital technology to establish new relationships with our audiences. But we are acutely aware that the formal political processes need to be brought into this world too. To that end, we are about to launch an important new site called Democracy Live.